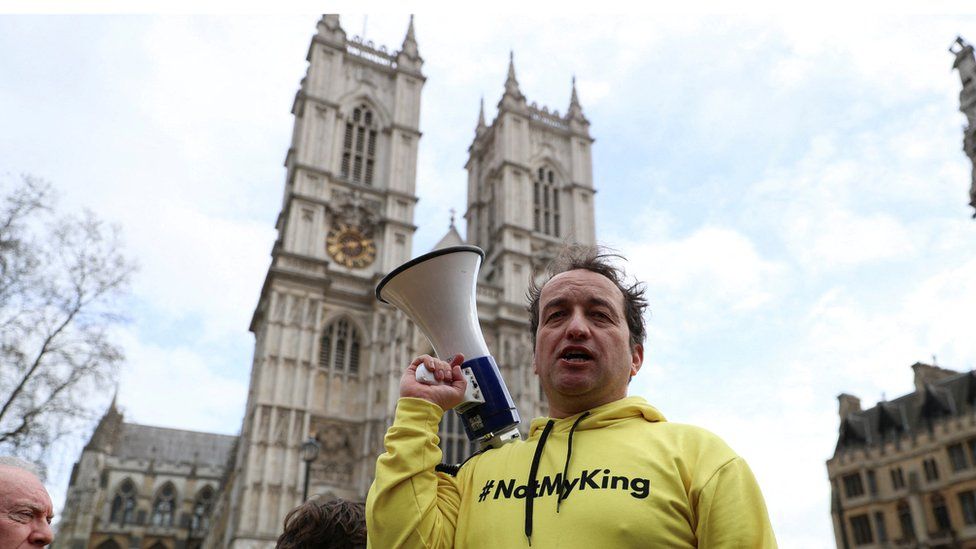 An anti-monarchy protester detained during the Coronation says he believes the police had "every intention" of arresting him before the event.
The chief executive of Republic, Graham Smith, was one of 64 people arrested by the Metropolitan Police in London.
He said he was held despite being in close conversation with the Met "for four months" about the group's plans.
The Met said it had "a duty to intervene when protest becomes criminal and may cause serious disruption".
Commander Karen Findlay, who led the Met's policing operation during the Coronation, said on Saturday: "Earlier this week we said our tolerance for any disruption, whether through protest or otherwise, will be low and that we would deal robustly with anyone intent on undermining the celebration."
Mr Smith told BBC Radio 4's Today programme he had been detained for 16 hours after being stopped by officers who suspected him and group members of carrying "lock on" devices to tie themselves to inanimate objects – a tactic which was outlawed by the government last week.
"They also said they had intelligence, which is untrue," Mr Smith went on. "If they did have intelligence their intelligence officers are either lying or incompetent because there was never any discussion, thought, email, message, anything that suggested any intent to do anything disruptive."
Mr Smith added that after months of discussions with the Met, the force had "repeatedly said, right up until Friday, that they had no concerns about our protest plans, that they were well aware of what we were going to do and they would engage with us and not disrupt us".
"So they've repeatedly lied about their intentions, and I believe they had every intention of arresting us prior to doing so."
Mr Smith also rejected suggestions his arrest along with other protesters was necessary to limit disruption to the Coronation, calling it "disgraceful".
He told the programme: "That's not an excuse to rob people of their rights. It's not an excuse to arrest people and detain them for 16 hours because some people want to enjoy a party.
"They stopped us because the law was introduced, rushed in last week, to give them the powers to stop us on any flimsy pretext.
"That law means we no longer in this country have the right to protest, we only have the freedom to protest contingent on the permission of senior police officers and politicians, and it's my view that those senior police officers were under immense pressure from politicians."
But Met Police Federation chairman Ken Marsh said officers "police without fear or favour," insisting the force had done "an incredible job" policing the Coronation.
He told the Today programme: "We have to take into consideration everything that at that moment is put in front of us. If individuals intend to cause an incident which will affect others near them or around them… then we take action to deal with it.
"Protesting can take place in this country, but it's to the level of which you perform that protesting that we have to balance and deal with."
Caroline Russell, Green Party London Assembly member and chair of the Police, Crime Committee at the London Assembly, said it was "really worrying" that the arrests had happened.
Speaking in a personal capacity, she told Today: "These people were literally wearing hi-vis vests with the Met Police logo on. They were volunteers for a Westminster programme in collaboration with the Met police.
"Those people volunteering were handing flip-flops to those in high heels, and handing out rape alarms so people could get home safely. It's extraordinary that they got caught up in the Met's safety net."
The Met says it made 64 arrests on the day of the Coronation of King Charles III and Queen Camilla, including for offences such as breach of the peace and conspiracy to cause a public nuisance. Forty-six people have been bailed.
Four people have been charged so far, including one person charged with the suspicion of causing a religiously aggravated offence; two for the possession of Class A drugs; and another for breaching Section 5 of the Public Order Act, which relates to displaying any material that is threatening or abusive.
All four will appear in Westminster Magistrates' Court later this month.
On Monday, members of the public will take part in community volunteering events across the UK to mark the final day of the Coronation celebrations.