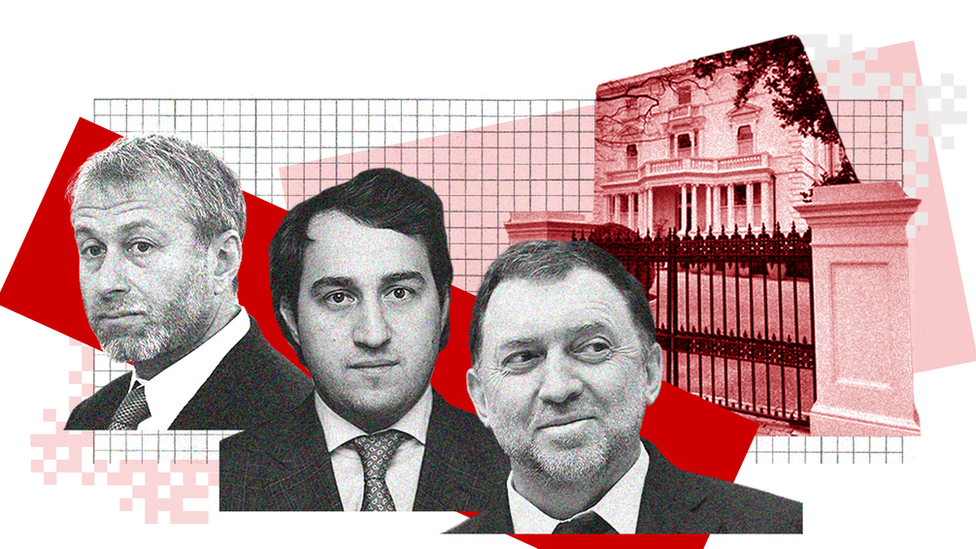 The UK has so far failed to impose fines worth as much as £1bn on foreign companies breaking a landmark transparency law, BBC analysis reveals.
Since January, overseas firms that own UK property can be fined up to £2,500 a day unless they declare their owners.
Thousands are still to do so, including firms which have been linked to oligarchs such as Roman Abramovich, but no fines have yet been issued.
The government said it was "building cases" against unregistered companies.
The register was introduced as part of the Economic Crime Act in February 2022, following Russia's invasion of Ukraine. Ministers said it would reveal who ultimately owned UK property and also stop foreign criminals using UK property to launder money.
​​Although the majority of companies have submitted their details, about 5,000 firms with property in England and Wales have not, more than three months after the 31 January deadline. The government suggests the figure is likely to be lower, as some companies may no longer exist and several hundred have already transferred their property. ​​
​​But even if there were just 4,000 firms that are not complying with the law, the total value in fines would add up to £10m per day if the maximum daily financial penalty was imposed on every company that has not supplied its information.
​​Over the entire period since the deadline, more than 100 days, this would add up to around £1bn.
Some foreign companies may not be aware of the new law yet, while others could be struggling to identify and verify all their beneficial owners, according to John Barnett from the Chartered Institute of Taxation.
But there may be others that have no intention of complying.
They could be "burying their head in the sand" or making a deliberate decision to "take the risk of… fines, confiscation of the property", Mr Barnett told the BBC.
Although no financial penalties have been issued, a spokesperson for the Department for Business and Trade said it was building cases against companies who have failed to register by the deadline and working with law enforcement to "prioritise action against the most egregious offenders".
The spokesperson said the UK was the first country in the world to take "this tough new approach to tackle money laundering through property", adding: "Fines are just one tool in our arsenal to crack down on non-compliance, and non-compliant companies are already unable to buy or sell unregistered land, cutting off the flow of money."
But, as the government itself has acknowledged, it's a complicated business establishing which properties are owned by oligarchs with links to Vladmir Putin.
When the Foreign Office announced further sanctions last month against those who knowingly assisted sanctioned Russians – including Mr Abramovich – to hide their assets, it said oligarchs had "scrambled to shield their wealth" with the help of financial fixers, offshore trusts, shell companies and family members.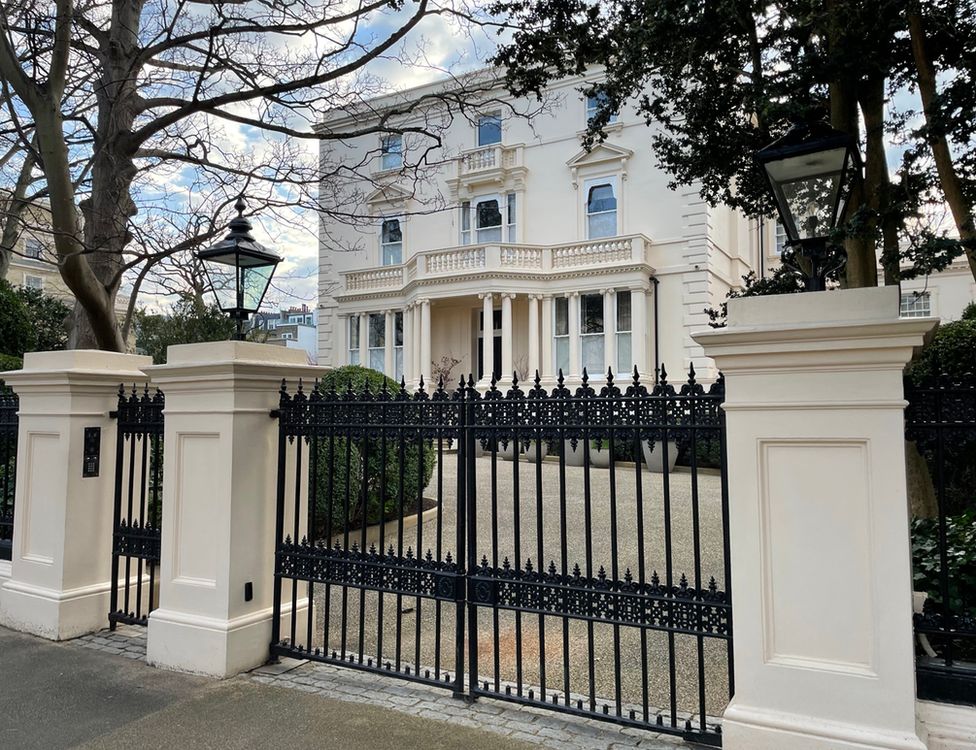 A 15-bedroom west London mansion widely reported as Roman Abramovich's home – planning applications for the property were made in the Abramovich name – was purchased for £90m in 2011 by Cyprus-based firm A. Corp Trustee. The company appears to be among those breaching the law by failing to provide details to the register.
A few miles away is a multimillion-pound City of London block that the Pandora Papers document leak revealed was owned by businessman Said Gutseriev – who was sanctioned in 2022 – via an offshore company that also does not appear to have submitted its ownership details to the corporate registry Companies House.
Neither Mr Gutseriev nor Mr Abramovich responded to the BBC's requests for comment.
Also apparently violating the law by not filing to the register are firms with property linked to energy and metals tycoon Oleg Deripaska, who was named in a UK court hearing as the beneficial owner of a Grade II-listed art deco mansion in Surrey and a large home in London's Belgrave Square.
When last year the Belgrave Square house was occupied by demonstrators supporting housing for Ukrainian refugees, a spokesman for the billionaire said the property belonged to family members rather than the oligarch himself.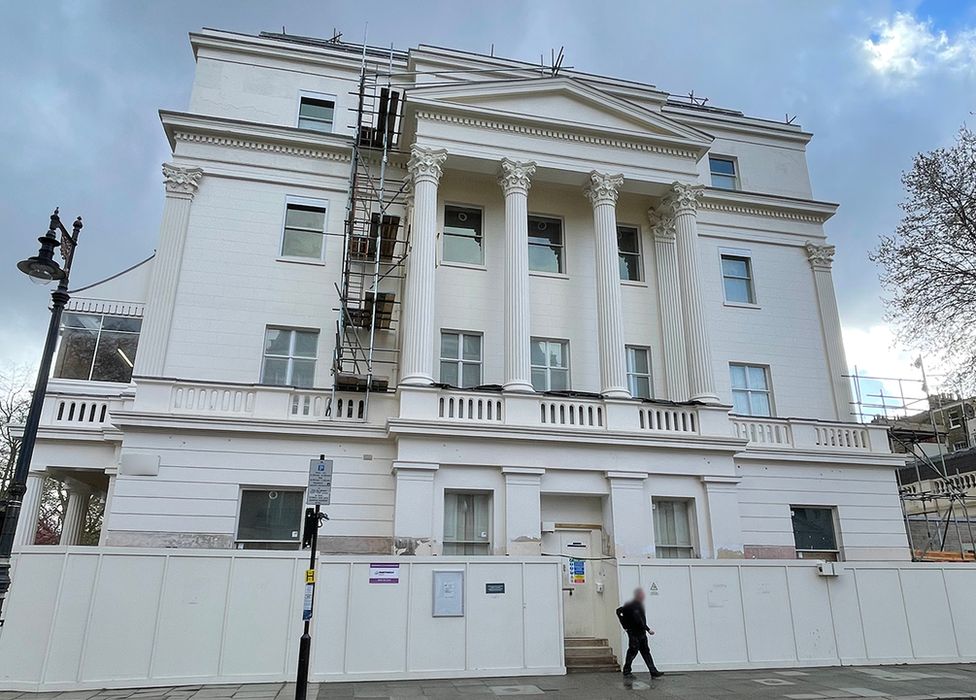 Asked whether companies he was linked to were violating the new transparency law, a spokesperson for the oligarch told the BBC "none of these properties are owned by Mr Deripaska".
A BBC and Transparency International investigation in February found that despite the new transparency laws, the owners of about 50,000 UK properties held by foreign companies remained hidden from public view.
This included companies that either ignored the law altogether or filed information in such a way that it remained impossible for the public to find out who ultimately owned and benefited from them.
Helena Wood, head of the UK Economic Crime Programme at the Royal United Services Institute think tank, said: "Although the new register is to be welcomed as a deterrent for the future, its ability to retrofit an existing system based on 30 years of turning a blind eye was always going to be limited."
Additional reporting by Alison Benjamin