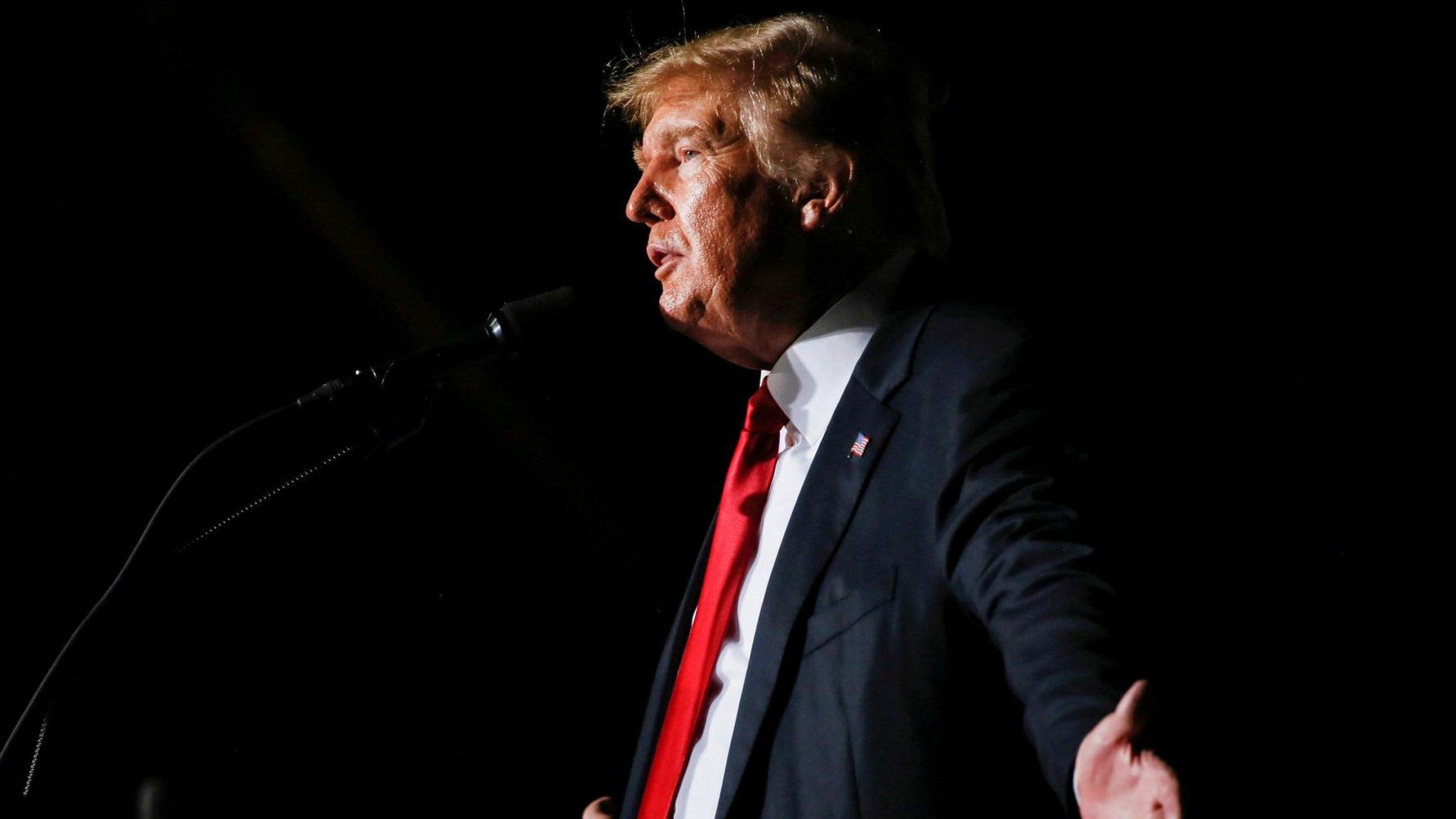 Former US President Donald Trump has been charged over his handling of classified documents after he left the White House.
Mr Trump, 76, faces seven charges including unauthorised retention of classified files, US media reported, but the indictment is not yet public.
It is the second indictment of Mr Trump and the first ever federal indictment of a former president.
He is campaigning to make a stunning return to the White House in 2024.
In a post on Truth Social, Mr Trump said he was innocent and had been summoned to appear at a federal court in Miami on Tuesday afternoon.
"I never thought it possible that such a thing could happen to a former President of the United States," he wrote.
He added: "This is indeed a dark day for the United States of America. We are a country in serious and rapid decline, but together we will Make America Great Again!"
An indictment is a document that sets out details of charges against a person, ensuring they have notice of alleged criminal offenses.
It was reported on Wednesday that a grand jury in Miami had heard evidence in the case.
The Department of Justice declined to comment and the indictment has not been publicly released.
Special prosecutor Jack Smith has been considering evidence in the documents case since he was appointed to oversee it by Attorney General Merrick Garland in November.
Last year, Mr Trump's Florida resort Mar-a-Lago was searched and 11,000 documents were seized, including around 100 marked as classified. Some of these were labelled top secret.
There were reports last week that prosecutors had obtained an audio recording of Mr Trump in which he acknowledged keeping a classified document after leaving the White House.
It is against US law for federal officials – including a president – to remove or keep classified documents at an unauthorised location.
Legal experts said the indictment would not limit Mr Trump's ability to run for the presidency again.
"He can be indicted any number of times and it won't stop his ability to stand for office," says David Super, a professor at Georgetown University Law Centre.
Mr Super noted that Mr Trump could continue to run for office even if convicted in the documents case, but it remains to be seen whether the Republican Party would stand by him.
A separate probe into efforts to overturn the results of the 2020 election, which Mr Trump lost, is also being overseen by Jack Smith, a former war crimes attorney who is known as a dogged investigator.
Mr Trump became the first former president to be charged with a crime this April, after he pleaded not guilty to 34 counts of falsifying business records over a hush-money payment to a porn star.
He faces a trial in that case in New York next year.