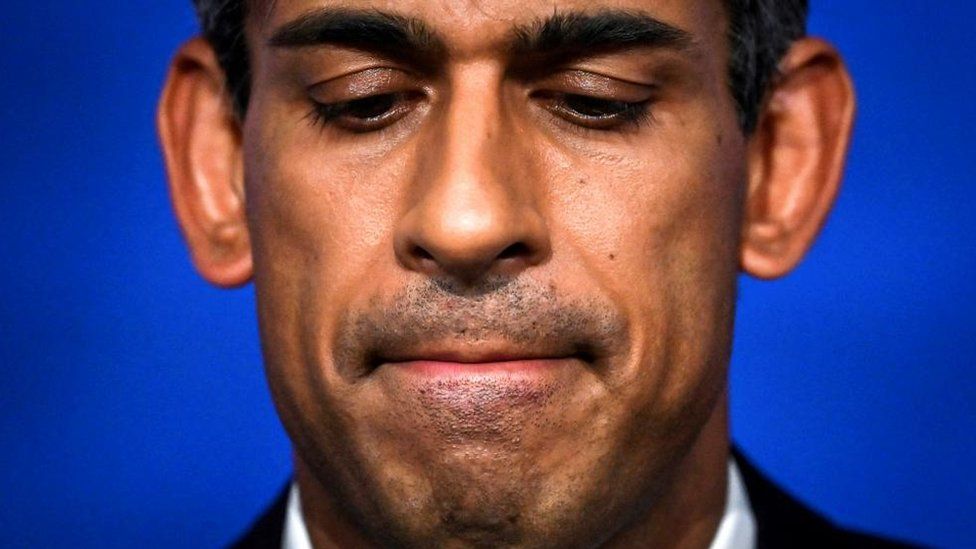 Behind his mild-mannered demeanour, Rishi Sunak's announcement was an excoriating demolition of the Conservative governments that came before his, some of which he was a member of.
Boris Johnson didn't get a name check as the prime minister outlined a major shift in green policies, but boy his ideas and instincts were shredded; painted as shallow and not thought through.
In the news conference room in No 9 Downing Street, Mr Sunak stood in front of a new slogan with – and I know this is niche – a new font.
"Long term decisions for a brighter future," it read – expect to see that rather prominently around the place at the Conservative party conference in Manchester in ten days' time.
Mr Sunak framed this announcement as a blunt, direct and pragmatic clearing up job that also illustrated his political creed – willing to embrace controversy to deliver what he believes is a hard-headed necessity.
He sought to walk towards the blizzard of criticism – an unlikely alliance taking in Ford and the National Trust among many others – rather than cower from it.
No 10 certainly hadn't planned for their ideas to get leaked, as they were to the BBC, and were mighty narked that they had.
But the rows about the substance of what they were saying were expected, and embraced.
This is the beginning of a wider political strategy.
Further speeches will follow this autumn on wider themes; expect more leaning in from the prime minister towards a more aggressive approach.
On these green themes, he and his advisers hope, beyond those with megaphones and PR departments condemning him today, many might quietly conclude he is on to something and being reasonable.
And when one of the big political parties makes a bit of a splash with a policy launch or change of direction, it is always instructive to closely observe how their opponents react.
Labour's response to this – beyond the predictable criticism of the Conservatives – was cautious. There wasn't an instant commitment to reversing all of the Conservative changes.
The party's position on the time to ban new petrol and diesel cars publicly shifted. There was an initial hesitancy about what they would do, before later committing to restoring the ban from 2030, rather than 2035.
In other words, Labour were forced to rapidly work out how to respond, and the space for a political argument is opening up; a wedge between them.
Now, the big question hovers. Will Mr Sunak's pitch be popular?
In short, for Mr Sunak, this is a gamble.
Having assiduously avoided stoking public rows within the Conservative Party for the last year, he has now chosen to do just that.
Those rows extend to parliament, and to the country.
But a prime minister miles behind their opponents, with an election on the horizon, has no choice but to gamble.