A Ukrainian missile strike has hit the headquarters of Russia's Black Sea fleet in Crimea.
One soldier is missing after the missile attack, according to Moscow. Footage on social media shows plumes of smoke over the building in Sevastopol.
The fleet is an important target for Kyiv and is seen as the best of Russia's navy.
Ukraine has hit several targets in Crimea recently, including an air-defence system and two naval vessels.
Against the backdrop of the attack, Ukrainian President Volodymyr Zelensky visited the Canadian parliament to give a speech in which he thanked Canada for being an "example for others around the world" in its support of his country.
Canada is home to a large Ukrainian diaspora.
Mr Zelensky, who was given multiple standing ovations, said "people will be the winners, not the Kremlin" and insisted Ukraine could call on support as it was about "saving lives of millions of people".
Canadian Prime Minister Justin Trudeau pledged additional support worth 650m Canadian dollars ($482m, £394m), including 50 armoured vehicles and training for F-16 fighter jet pilots and engineers.
A Ukrainian military source told the BBC that Friday's attack on Crimea was carried out using Storm Shadow missiles, which are supplied by Britain and France, highlighting the importance of Western weaponry to Kyiv.
Russia's defence ministry said five missiles were shot down by its air defences, while the Ukrainian military-linked StratCom Ukraine said Ukraine had "successfully" hit the naval base.
Ukraine's air force commander Gen Mykola Oleshchuk said on Telegram "we told you there'd be more".
Kyiv's forces have recently been launching near-daily strikes against Russian forces based in Crimea.
Last week, Ukraine's navy claimed to have knocked out an S-400 air defence missile battery covering the peninsula, degrading Russia's ability to defend against fresh attacks.
A day earlier, a large Russian landing ship and submarine were damaged in an attack which Ukraine said also made use of Storm Shadow missiles.
The attacks on Crimea are strategically and symbolically important.
As well as being a platform from which to attack Ukraine, the Black Sea fleet is a major symbol of Russia's centuries-old military presence in the region.
It was based in Crimea under a leasing deal even before Russia illegally annexed the peninsula in 2014.
President Vladimir Putin has said that Russia had to take control of Crimea to stop it from falling into Western hands.
Russia has also repeatedly threatened to use the fleet to block shipping routes used by Ukraine to export grain.
The Ukrainian president is visiting North America, where he has been urging world leaders to continue to support Ukraine.
On Thursday, he met President Joe Biden in Washington where there is growing scepticism – particularly among Republicans – over the level of funding for Kyiv.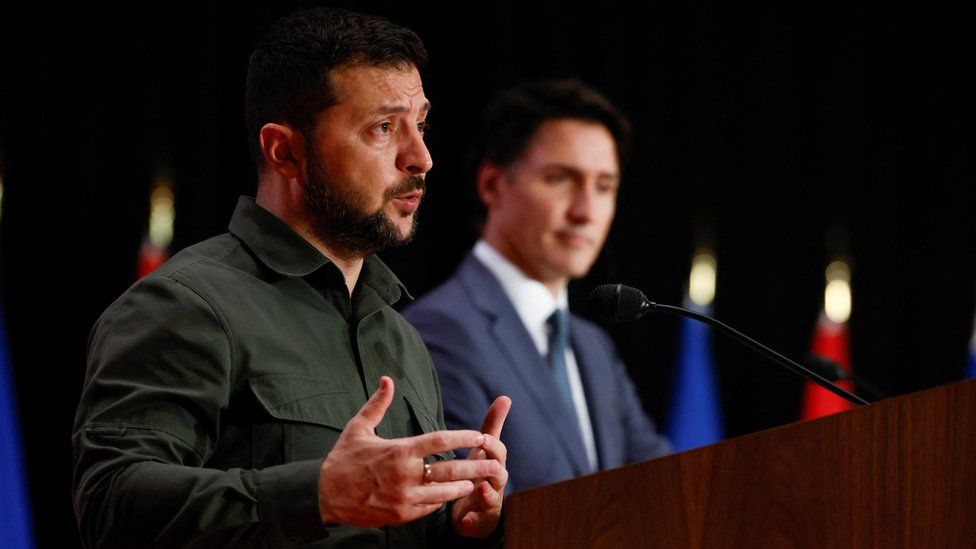 But speaking at a news conference in Ottawa on Friday, Mr Zelensky said Russia was "spreading disinformation, spreading its narratives all around the place" to try to divide the unity of the rest of the world.
Asked about reports in the US media that President Biden had agreed to supply Ukraine with a small number of long-range missiles, Mr Zelensky did not directly answer the question but said the two countries were discussing "all the different types of weapons", including long-range weapons, artillery shells and air defence systems.
"I believe that [on] the majority of what has been discussed yesterday with President Biden, I think will be able to reach agreement."
He said it was a matter of time but added "quite frankly the sooner, the less people we will lose".
The US already provides far more financial aid and weapons to Ukraine than any other country.