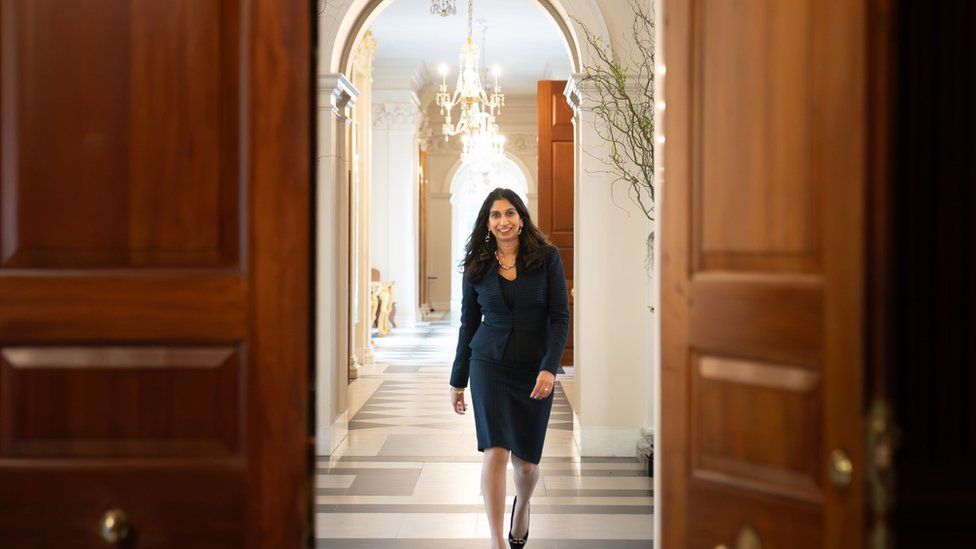 Fearing discrimination for being gay or a woman should not be enough to qualify for international refugee protection, the home secretary will say.
Addressing a US think tank, Suella Braverman will question whether the application of the UN's 1951 Refugee Convention is "fit for our modern age".
She is expected to argue laws have morphed from helping those fleeing persecution to those fearing bias.
Labour accused her of having "given up on fixing" the asylum system.
"Now she's resorting to grandstanding abroad and looking for anyone else to blame," said shadow home secretary Yvette Cooper.
The Refugee Convention was drawn up following World War Two, and has at its centre the principle that refugees should not be returned to countries where they face threats to their life or freedom.
The home secretary will tell an audience at the right-wing American Enterprise Institute in Washington DC that "we now live in a completely different time" from when the convention was signed.
She is expected to say: "As case law has developed, what we have seen in practice is an interpretive shift away from 'persecution', in favour of something more akin to a definition of 'discrimination'.
"And a similar shift away from a 'well-founded fear' toward a 'credible' or 'plausible fear'.
"The practical consequence of which has been to expand the number of those who may qualify for asylum, and to lower the threshold for doing so."
The definition grants the right for at least 780 million people worldwide to move to another country, according to the Margaret Thatcher-founded think tank, the Centre for Policy Studies.
This figure is based on the total number of people who might have a "well-founded fear of persecution for reasons of race, religion, nationality, membership of a particular social group or political opinion" worldwide – including everyone in Afghanistan other than the Taliban or the male population of Eritrea, where conscription into the armed forces has pushed thousands into exile.
According to the UN the total number of refugees worldwide is much lower, with 35 million people registered as refugees in 2022.
Despite speaking thousands of miles across the Atlantic, Ms Braverman's comments are almost certainly designed to spark debate back in Westminster.
On Tuesday morning, Police Minister Chris Philp told the BBC the "elastic" of the definition of who is granted refugee status "has been stretched a bit" through 70 years case law.
The convention is now "being used by essentially economic migrants to try and claim asylum to move between countries", he said.

What is the Refugee Convention?
The Convention was drawn up in 1951 and came into force three years later, during an era where millions were displaced across Europe after World War Two
It was originally drafted to focus specifically on Europe's post-war refugees – but a 1967 amendment removed the geographic and time limits included in the original text and made the Convention universal
The Convention provides an agreed definition of a refugee, establishes basic minimum standards for their treatment, and says that refugees should not be penalised for breaching immigration rules while fleeing
Its core principle is "non-refoulement" – which means refugees should not be returned or expelled from a country against their will if they fear for their life or freedom
Almost 150 countries have signed up to the Convention and it is considered a cornerstone of the international asylum system

A further extract of the speech says: "Let me be clear, there are vast swathes of the world where it is extremely difficult to be gay, or to be a woman. Where individuals are being persecuted, it is right that we offer sanctuary.
"But we will not be able to sustain an asylum system if in effect, simply being gay, or a woman, and fearful of discrimination in your country of origin is sufficient to qualify for protection.
"The status quo, where people are able to travel through multiple safe countries, and even reside in safe countries for years, while they pick their preferred destination to claim asylum, is absurd and unsustainable."
Given that much of the world is signed up to the existing convention it would be a tall order for Ms Braverman to manage to drive through reforms. But, by starting the debate, she is again trying to highlight the government's determination to take a tough approach on migration.
Ms Braverman can expect a warm reception at the American Enterprise Institute, and among many Tory MPs in Westminster.
Her decision to visit Washington and make such a punchy speech while there will inevitably be viewed at least in part through the lens of her leadership ambitions, too.
She ran unsuccessfully for the Conservative leadership last summer and is a likely candidate to stand again should Rishi Sunak lose the next general election.
The question of the right way to define a refugee feeds instantly into the broader political debate about illegal immigration and how to deal with asylum seekers coming to the UK in small boats.
The home secretary's speech comes as the government prepares for a Supreme Court hearing on whether its plan for tackling small boat crossings is legal. The government wants to send those who come into the UK illegally to Rwanda or a third country.
The home secretary no doubt expects a backlash – not just from domestic political opponents but also from the United Nations refugee agency, which oversees the convention at which she is taking aim. Ms Braverman has already clashed with the agency over the government's plans.
Some in her own party have already criticised Ms Braverman's comments.
Andrew Boff, a long-serving Conservative member on the London Assembly and patron of the LGBT+ Tories, said: "People flee persecution on the grounds of gender, sexuality and faith and a small minority come to the UK, usually because they have family support networks here or have knowledge of the language which helps with their integration.
"I have confidence that her dog whistles won't be heard internationally so she should spend her time on sorting out the appalling backlog of asylum claims rather than distracting us by victim blaming."
The United Nations High Commissioner for Refugees (UNHCR) has strongly criticised the government's plan arguing it would "deny protection" to genuine refugees and was a "clear breach" of the Refugee Convention.
Responding to Ms Braverman's speech, the Refugee Council charity said the UK should be "addressing the real issues in the asylum system, such as the record backlog, and providing safe routes for those in need of protection" rather than tearing up agreements.
However, Alp Mehmet from the Migration Watch UK campaign group said the home secretary was right to "call out the conventions" and said the UK should withdraw from the Refugee Convention if reforms were not made.
Barrister and campaigner for refugee rights Colin Yeo told the BBC: "It took decades for various countries to sign up to the convention – negotiating a replacement with international buy-in just isn't going to happen."