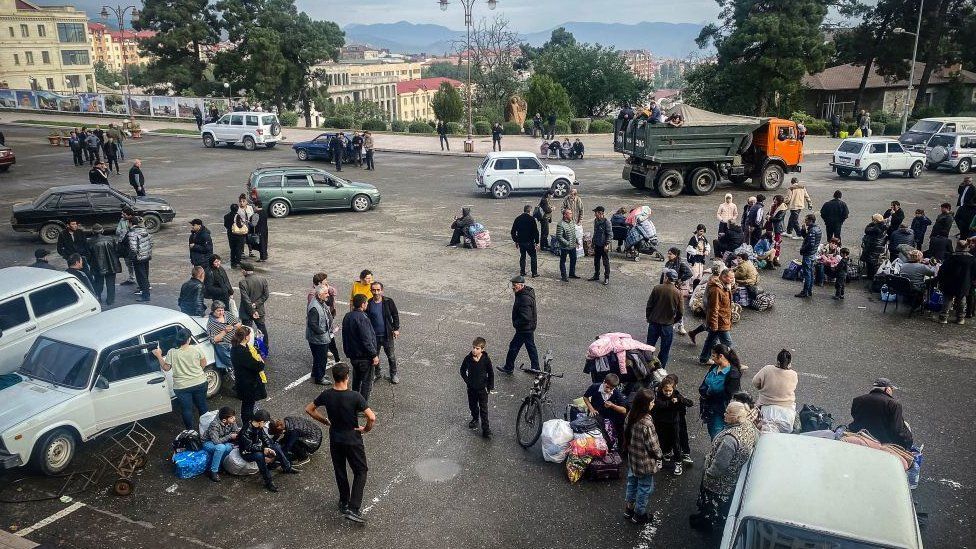 Nearly 30,000 ethnic Armenians have fled Nagorno-Karabakh – a quarter of the population of the enclave which Azerbaijan seized last week.
Hundreds of cars are backed up on the one road leading into Armenia, the destination of those leaving.
Azerbaijan says residents will be safe, but Armenia's prime minister says "ethnic cleansing" has started.
Nagorno-Karabakh – recognised as part of Azerbaijan – had been run by ethnic Armenians for three decades.
The mountainous region in the South Caucasus has been supported by Armenia – but also by its ally, Russia.
At least 200 ethnic Armenians and dozens of Azerbaijani soldiers were killed as Azerbaijan's army swept in. As part of a ceasefire deal, separatists have agreed to surrender their weapons.
The Azeris have said they want to treat ethnic Armenians as "equal citizens" but a limited amount of aid has been allowed through and many residents are fleeing.
On Monday, a massive fuel blast killed at least 68 people attempting to leave.
Nearly 300 more were injured and 105 are missing.
It is not yet clear what caused the explosion on Monday evening near the main city of Khankendi, known as Stepanakert by Armenians, but many were refilling their cars.
As they crossed the border on Tuesday, thousands of ethnic Armenians were subject to rigorous checks from Azerbaijani border control.
Azerbaijani authorities claimed to be looking for "war crimes" suspects, and one government source told Agence France Presse news agency that the country intended to apply an "amnesty to Armenian fighters who laid down their arms in Karabakh".
"But those who committed war crimes during the Karabakh wars must be handed over to us," they said.
Hundreds of cars and buses are trying to reach the town of Goris across the border.
A BBC team saw families crammed into cars, boots overflowing and roof-racks piled high with belongings. Convinced they are leaving their homes for good, people are squeezing as much of their lives as possible into their vehicles.
Inside Goris, a small town that is the same dusty brown as the jagged mountains that surround it, the narrow streets are filled with more cars and more families. One has arrived in a car held together with little more than sticking tape, its side badly dented and dotted with shrapnel holes, and windows smashed.
The owner tells the BBC it was hit by mortar fire when Azerbaijan launched a lightning assault to take control of the region last week. "But it still got us here," he smiles, surrounded by small children.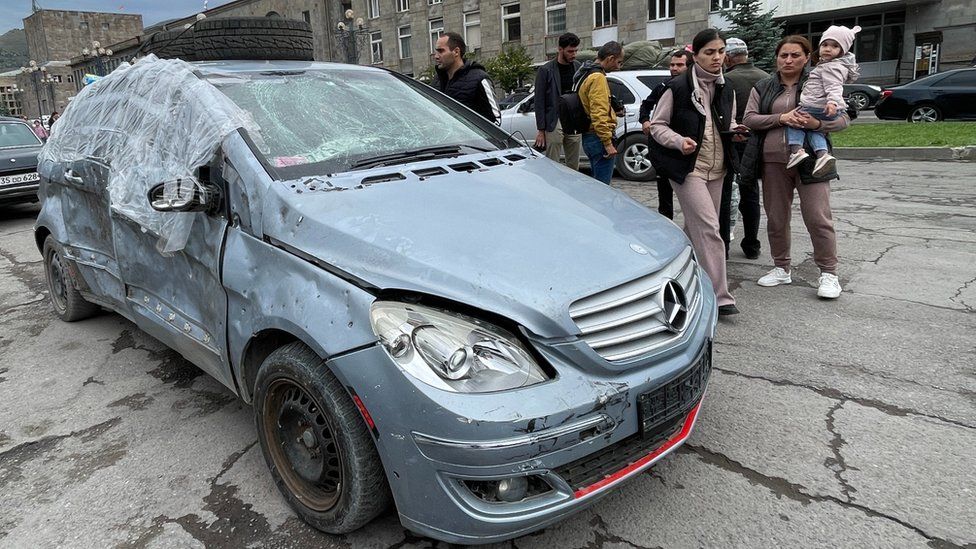 On the main town square, people mill around, unsure what to do next. Volunteers hand out some basic food and blankets.
Evacuees are registered and there is the occasional bus to move people on to another town or village. But few seem to have a plan, beyond getting this far.
For two days last week, Malina and her family all huddled in their cellar as their village was under fire. After the Karabakh forces surrendered, Malina says the local authorities told everyone to leave for Armenia, for safety. Their village in the Martakert region of Nagorno-Karabakh is now empty.
Malina says her family left because – whatever the assurances – they would not feel safe under Azerbaijani rule.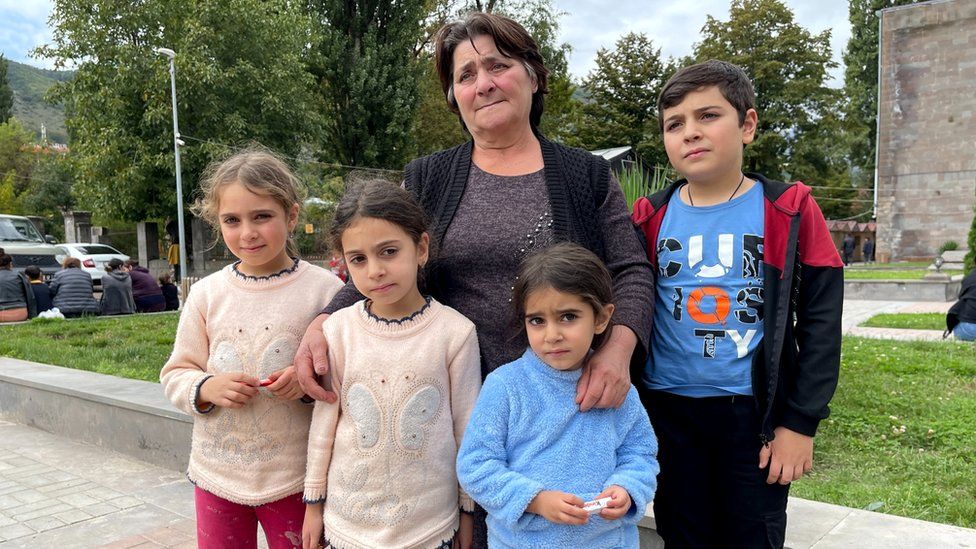 That sentiment is echoed by many others watching the situation unfold.
On Tuesday, US Secretary of state Antony Blinken urged Azerbaijan's President Ilham Aliyev to provide "unconditional protections and freedom of movement for civilians", and called for "unhindered humanitarian access to Nagorno-Karabakh".
UN Secretary General Antonio Guterres also called for both sides to respect human rights.
So far, only one aid delivery of 70 tonnes of food has been allowed through since separatists accepted a ceasefire and agreed to disarm. Azerbaijan announced that another aid convoy, with 40 tonnes of flour and badly-needed hygiene products, was on its way to the enclave.
Ethnic Armenian leaders say thousands are without food or shelter and sleeping in basements, school buildings or outside.
The Armenian health ministry said it was sending helicopters to evacuate patients from the region's strained hospitals. Azerbaijan also said it had sent medical supplies.
On Tuesday, envoys from Armenia and Azerbaijan met in Brussels for European Union-backed talks.
It was the first time diplomatic negotiations have been held between the two countries since Azerbaijan seized the enclave last week.
Azerbaijan has also started separate negotiations with Karabakh's ethnic Armenian authorities about the region's future.
Armenia-Azerbaijan: Nagorno-Karabakh map