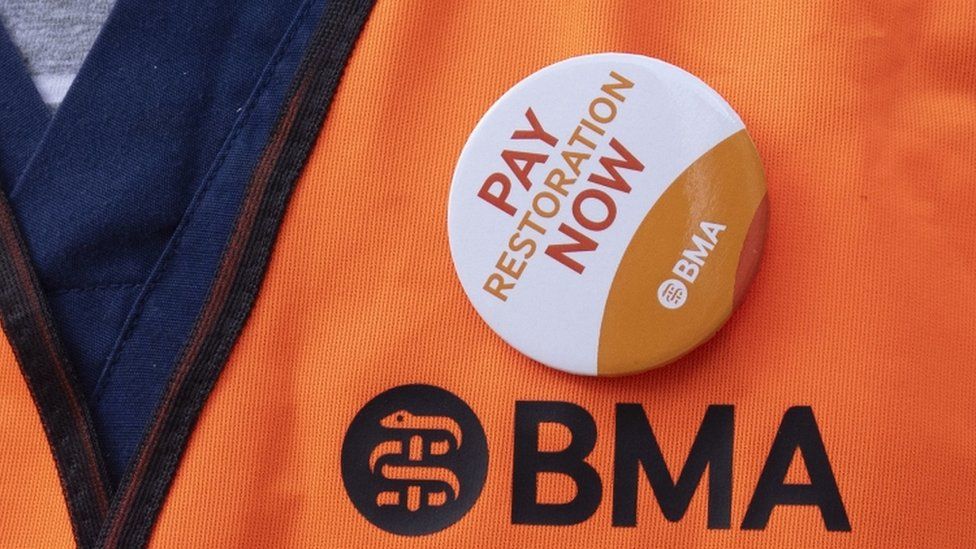 NHS bosses are warning patients to expect extreme disruption in hospitals, as junior doctors and consultants stage a three-day joint walkout in England.
The stoppage begins at 07:00, with NHS England saying it will bring non-emergency care to a "near standstill".
The British Medical Association is promising "Christmas Day" cover, meaning emergency care will be staffed, with only minimal cover elsewhere.
The two groups represent about four-fifths of doctors working in hospital.
But a third of them are not BMA members, so are thought unlikely to be involved.
Just under two weeks ago both groups went on strike together for the first time – but that joint walkout only lasted 24 hours. Before that they had held strike action on different days.
NHS England medical director Prof Sir Stephen Powis said: "NHS services have had very little time to recover from the previous action and now face three consecutive days which will prove extremely challenging, with almost all routine care brought to a standstill."
People needing emergency care are being advised to use A&E units as normal or call 999.
For other health concerns, 111 or GP services should be used – although they could be disrupted, as some junior doctors work as GP trainees.
Patients should have been told about any postponements of non-emergency services in advance.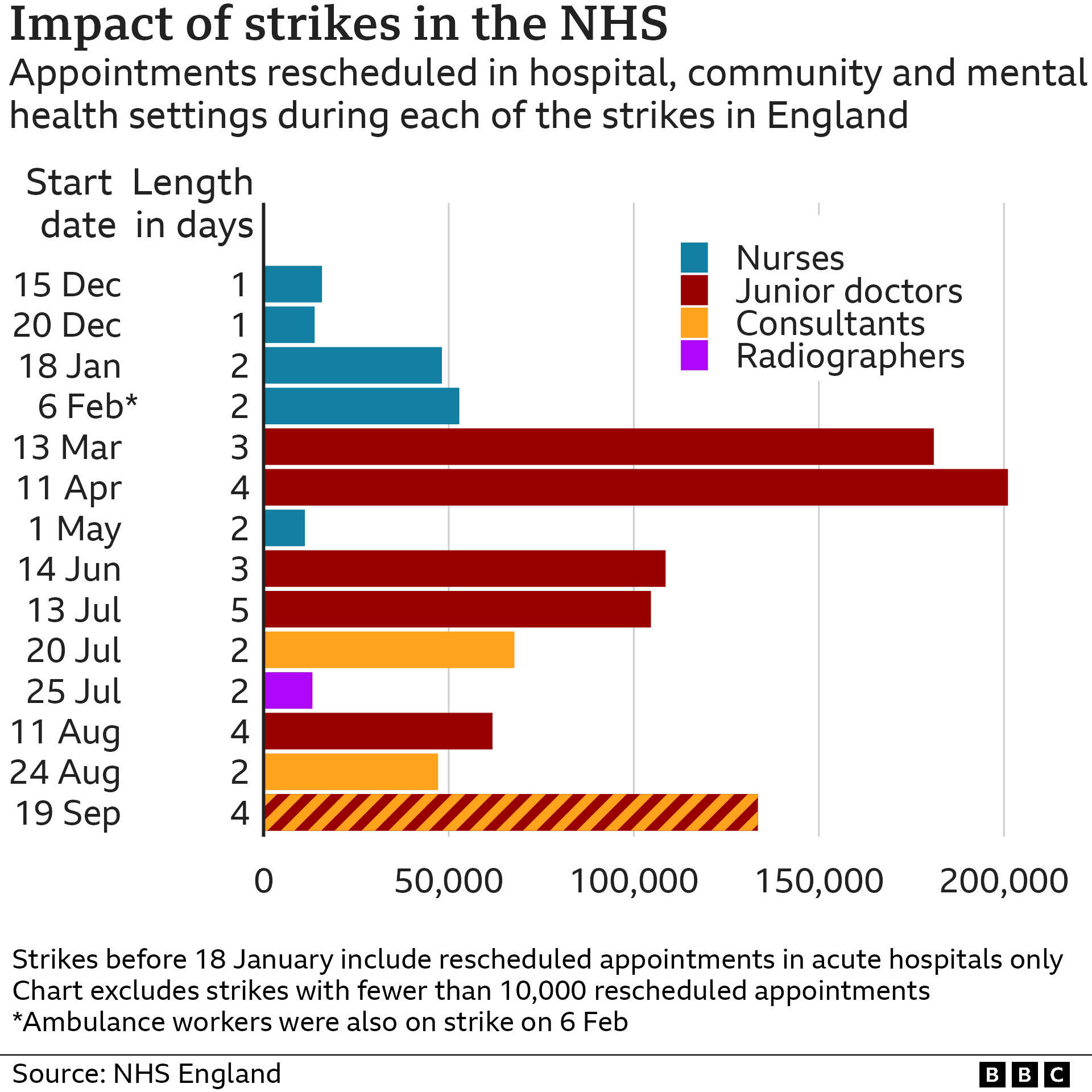 During previous action, some hospitals have reported having to cancel half of their planned appointments and treatments.
So far, more than one million bookings have had to be rescheduled since NHS strikes began in December.
The most disruption has been seen during the walkouts by doctors – nurses, physios, ambulance staff and radiographers have also taken strike action, but much of that has now ended.
Hospitals are reporting some patients were having treatments and appointments cancelled for the second or third time.
The industrial action has contributed to the record 7.7 million people currently waiting for hospital treatment.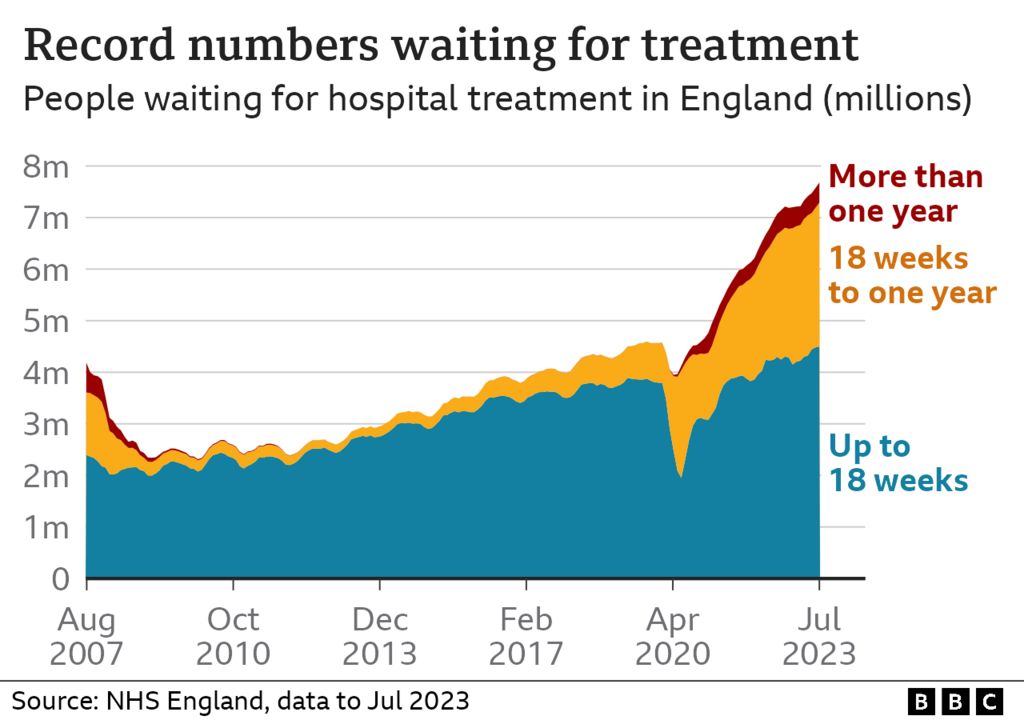 It is more than 100 days since the health secretary sat down with BMA leaders for pay talks – and none are planned for the future.
Ministers said this year's pay rise was a "final and fair" settlement and it met the independent pay review body's recommendations.
Consultants are being given 6% and junior doctors an average of 8.8%, depending on their level.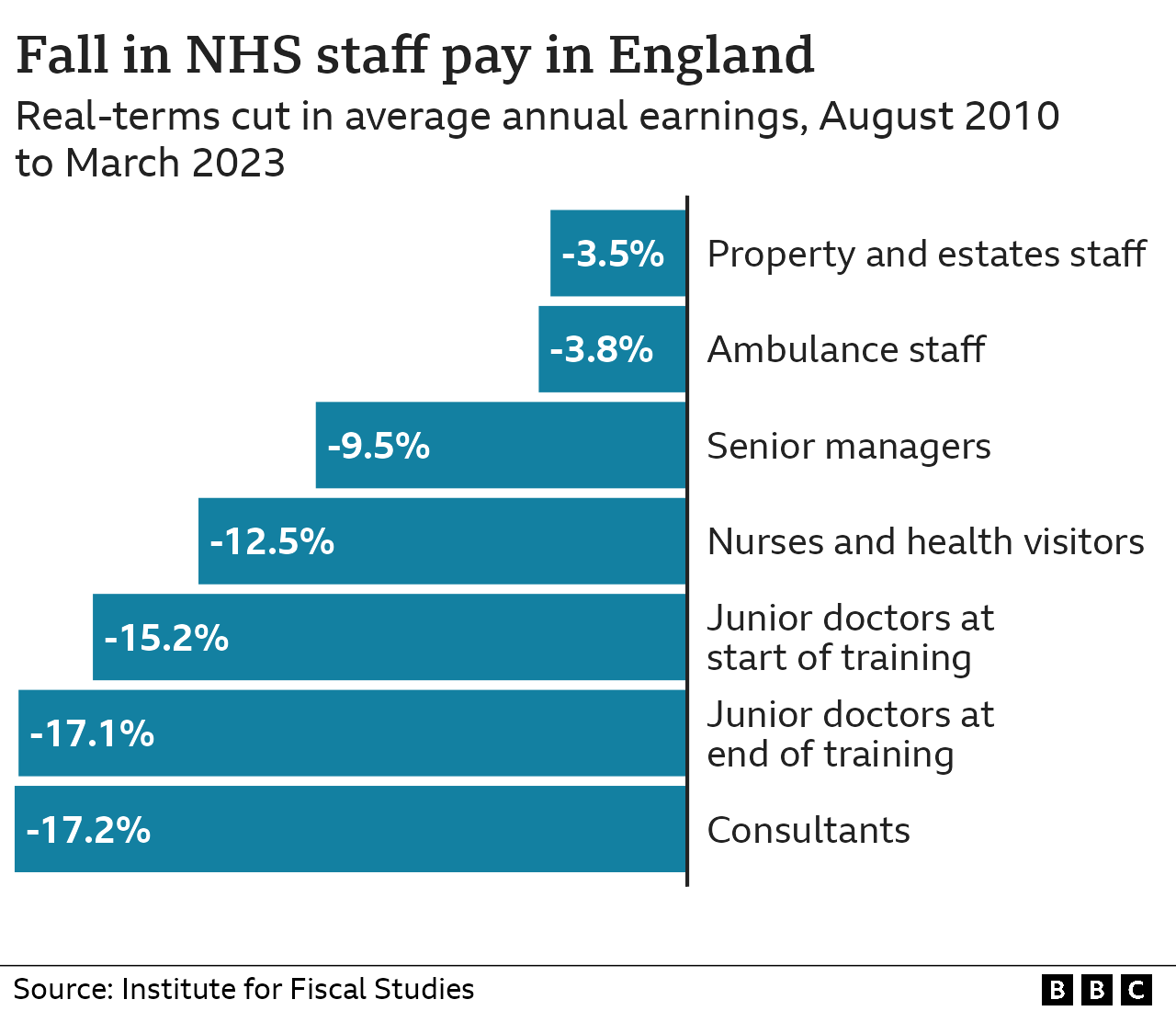 The pay increase means junior doctors' basic salary ranges from £32,400 to £63,150, while consultants can earn up to £126,300.
Doctors earn about a quarter to a third more on top of this, on average, for things such as unsociable hours and additional work, which can be mandatory for junior doctors.
Junior doctors were after a 35% increase, to make up for what they say are years of below-inflation wage rises.
Consultants have not put a figure on what they would like – a figure of 12% has been floated – but insist it must be above inflation, to start restoring pay they have lost once inflation is taken into account.
Health Secretary Steve Barclay said he was "deeply disappointed and concerned" and urged the union to end its strike.
But BMA chairman Prof Phil Banfield said doctors were not the problem: "We don't want to be on strike, but we so want doctors to be recognised as the highly skilled practitioners of medicine that they are."
In terms of public support, the latest polling from YouGov shows 56% support junior doctors, with 37% opposed. For senior doctors, 42% are in support and 50% are opposed.
Doctors are also being balloted for industrial action in Wales, while in Northern Ireland the BMA is preparing to.
Related Internet Links
The BBC is not responsible for the content of external sites.